New Water Ring Plastic Film Pelletizing Machine
Product Description
Water ring type plastic film pelletizing machine is used to produce round plastic pellets from waste plastic PP PE films, It is widely used in the plastic recycling plants, plastic films manufacturing plants, other plants which use package films and bags.
New design water ring type plastic film pelletizing machine is one kind of high efficient plastic pelletizer machine in MG machinerycompany. the whole film pelletizing line includes cutting compactor, single screw extruder, double station hydraulic filtration system, water ring pellet cutter, vibration machine, cyclone system and centralized control cabinet. It can be used for recycling kinds of waste plastic films, for example, LLDPE, LDPE, HDPE and PP films.
Video of the single stage water ring PP PE plasticfilm pelletizing machine on YouYube:
https://www.youtube.com/watch?v=rK3MEEWMLE4
The processing of water ring PP PE plastic film pelletizing machine:
1, belt conveyor: feed the films into compactor.
2, metal detector: it is an optional unit to install on the belt conveyor or not.
3, cutting compactor: cut and shrink the big plastic films and bags directly, then feed the materials automatically into extruder.
4, single screw extruder: plasticize the materials well and degassing the material to improve the pellets quality.
5, hydraulic filtration system: filter out the impurities and improve the pellet quality.
6, water ring cutter: cut plasticized materials into pellets.
7, vibration machine: classify the pellets and shake off the most water.
8, cyclone system: spin out water content, and convey the pellets into silo for easy package.
9, centralized control cabinet: control the running of whole plastic pelletizing line.
Features
Features of the water ring type plastic film pelletizing machine:
1, wide usage for kinds of waste plastic PE PP films and bags.
2, good plasticizing and degassing for materials.
3, 38CrMoAlA barrel and screw with nitrogen procession, wearable, long lifetime.
4, hard teeth reducer, big torque.
5,famous brand of motors and inverter guarante steady running.
6, ceramic heater, even heating result.
7, OMRON temperature meter, precision control.
8, double position hydraulic screen changer for alternative working, high efficiency.
9, alloy knives for pelletizing cutter, smooth cutting, long use time.
10, embedded circular water cooling system, good cooling result for die and pellets.
11, easy operation and maintenance.
12, low power consumption
13, less manpower, high automation.
14, strong machine structure.
Main Techincal Parameter
Models of the water ring type plastic pelletizing machine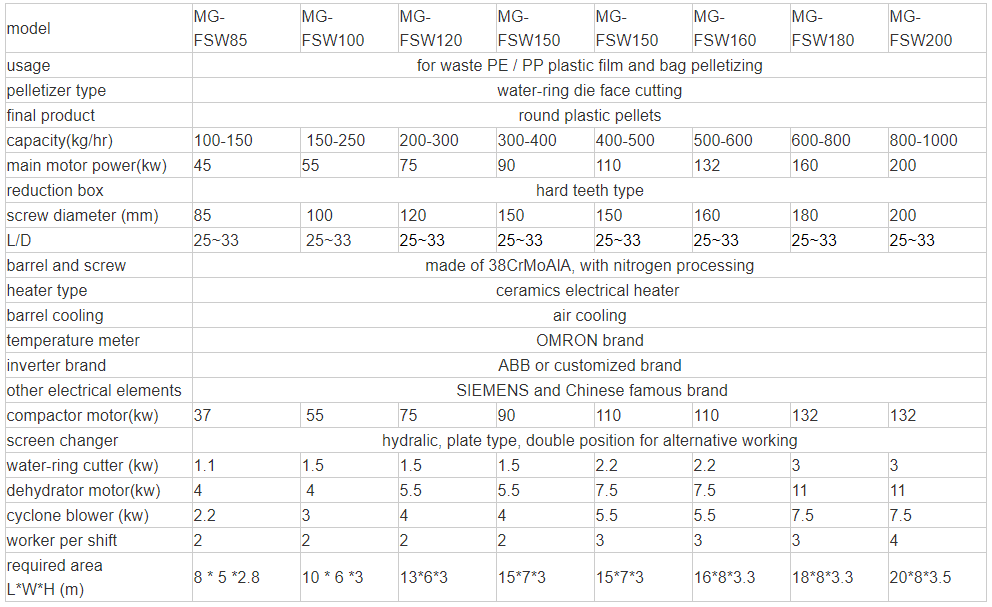 Advantage
What we can do in the cooperation:
1, manufacture the machine with good technics.
2, demonstration of machine installation and operation before shipment.
3, shipping on time.
4, after sale service on time.
5, lifetime services.
6, cost price for spare parts replacement.
7,free guidence for technology upgrade.